10 Frequently Asked Questions about Image Upscaling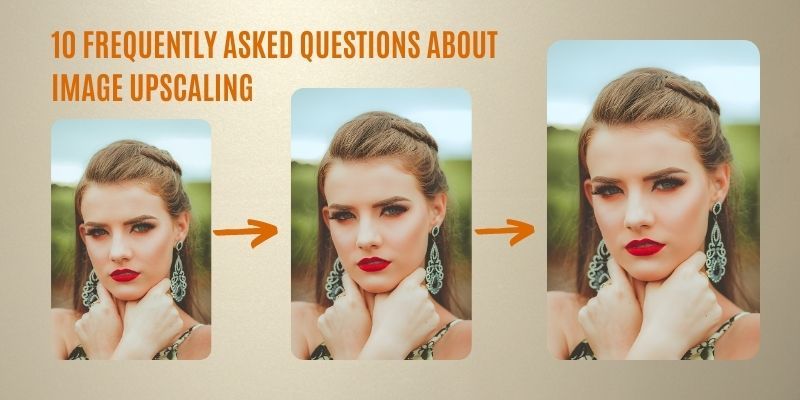 What Does It Mean to Upscale an Image?
Upscale as an adjective means "of high quality." For example, you would describe a place where there are lots of nice-looking, well-constructed homes as an "upscale neighborhood." A store that specializes in selling designer fashion pieces would be called an "upscale clothing outlet."
When used within the context of pictures, the word "upscale" means the act of enhancing an image to make it look better and/or bigger. This sometimes involves editing the image with computer software like Adobe Photoshop, and/or resizing it, and increasing the resolution- from an initial 1080p resolution to something higher like 4k or even 8k. This process is called image upscaling.
What Do 4k and 1080p Mean?
Cameras, monitors, television screens, and graphic display hardware employ a unit of measurement called resolution which refers to the number of pixels per area of the display. The terms 4k and 1080p refer to the two most common high-definition resolutions that are in use today. When you say that a picture is in 1080p, it means that it contains 1920x1080 pixels- 1920 pixels on the horizontal axis and 1080 pixels on the vertical axis. When it comes to 4k (3840x2160)it's a bit different, the 4k refers to the number of pixels on the horizontal axis (3840 pixels), instead of the vertical.
Relationship Between Image Quality and Image Resolution
Unlike what most people believe, high image resolution does not always equate to high image quality. Though the two are often intertwined with each another, there are a lot of factors to consider when it comes to image quality. For example, upscaling a blurry 720p photo to something higher (like 4k perhaps) would not make it clearer nor make it more detailed; in this case, upscaling the resolution might decrease the photo's quality and make it muddier.
How Can I Upscale Pictures For Free?
Yes, you can use trusty old Adobe Photoshop to upscale images. However, Photoshop is a paid service. Thankfully, there is a lot of free software out there that you can use. A few examples are GIMP (which is a free open-source Photoshop), Deep Image, and Stockphotos.com AI Image Upscaler Tool.
Now, most online photo upscalers support free services or have a free trial. If you are not sure if the tool is free, you can go to the site and check its price plan for more information.
What Happens When You Upscale an Image?
Upscaling stretches the image from its original resolution and then renders it to whatever higher resolution that you desire. You add more pixels to the image per square inch; the more pixels there are, the more "data" there However, this does not mean that the details in the image will look much more detailed. This depends on the initial quality of the photo itself, as well as the type of upscaling software that you're using.
How to Upscale a Picture Without Losing Quality?
It's possible to upscale an image while maintaining its integrity. Some traditional upscaling tools would usually just take a low-res image and then repeat and copy pixels around just to fill up space. This likely results in grainy and fuzzy images.
However, AI upscaling tools like Imgupscaler take a different approach. Instead of merely repeating pixels, AI Image Upscaler uses AI technology to predict what the image will look like if rendered in a higher resolution. This process results in clearer and more detailed images.
Using AI image upscaler you can easily upscale any photograph to 4k without losing quality. This AI photo editing tool has been trained through thousands of real photos. It can scan and recognize the elements in the uploaded photo automatically and enlarge the photo in a short time. This AI upscaling website is very friendly to users who have a lot of photos to process.
What is the Most Recommended AI to Upscale Anime to 4k?
A lot of anime from Japan aren't produced to be displayed on high-definition screens (like 4k displays and above). This results in a subpar viewing experience if you have a 4k television. Some image enlargers may fail to enlarge a human portrait without losing quality but produce good-quality results in anime images.
Picture upscalers can allow you to upscale anime images online, 100% automatically. Compared with waifu2x, AI tools make the image upscaling process easier and faster. No matter how imperfect your anime photos are, they can easily get rid of their blur, noise, and compression artifacts while upscaling their quality.
If you want to upscale anime images to 4k, one of our most recommended tools to do the job would be Imgupscaler. Anime images are perfect candidates for upscaling since they are usually clear and the AI technology can easily interpret what the lines and colors will look like when the resolution is increased.
Surely there are so many sites or tools that can do it, but registration or subscription is required. However, you will not encounter these problems if you use imgupscaler. Why? It is free and doesn't require a premium account. You can upscale up to 10 images every month for free.
It can upscale the resolution of the anime/manga images as well as restore the details 100%. No blur, pixel or destroy for the anime. All image quality enhancement, sharpen, denoise, correct color, and upscale pixels are fully automated processed. You are not required to have editing skills, no need the fine-tune by yourself. Just follow the 3-steps.
Step 1: Visit imgupscaler official website and find the area to upload the picture.
Step 2: Upload the anime photo that you want to upscale using this photo upscaler.
Step 3: Click the "Start" button to let AI do its work.
Example: anime image upscaled by imgupscaler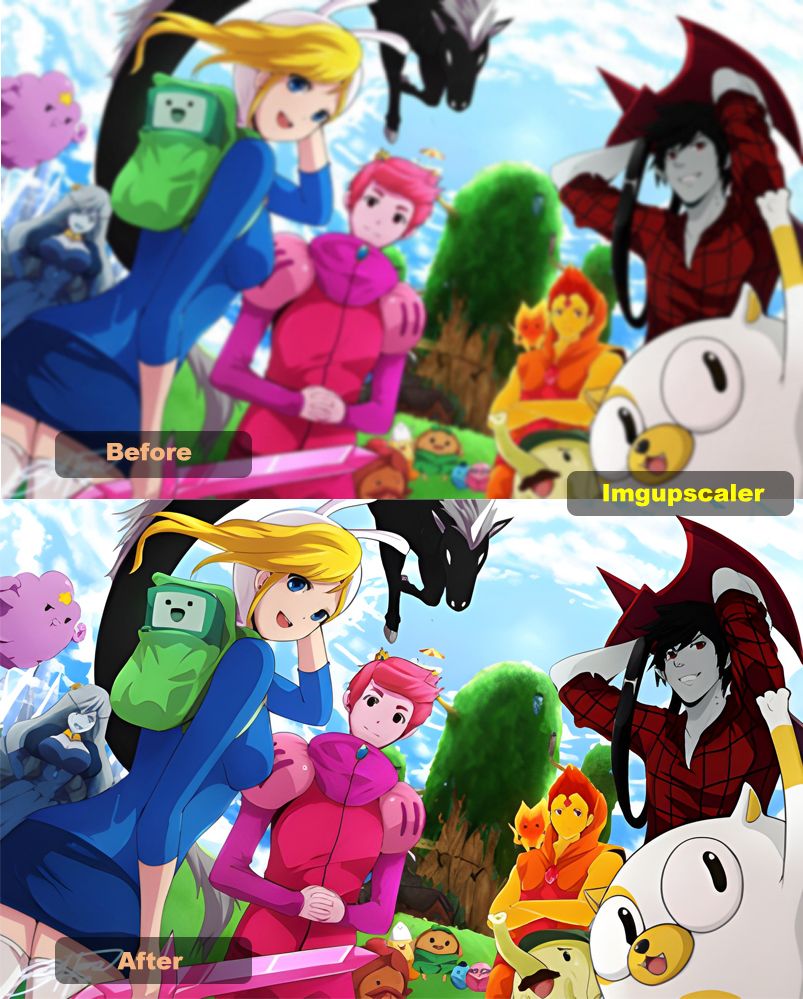 How Does Image Resolution Work?
The resolution, according to Adobe, is the fineness of detail in a bitmap image. This is measured in a unit called pixels per inch or PPI. When you have more pixels contained in a square inch, the higher the resolution of the image is. Usually, when a picture has a higher resolution, it has higher image quality and looks better on print or a screen.
Why is Deep Learning Used for Super Resolution?
AI algorithms that are used for upscaling cannot remove compression artifacts and other visual defects during the process. This is where deep learning comes in. Software is trained on deep learning models that can detect these defects and repair them while they are being upscaled.
Is Upscaling an Image Good?
Yes, as long as you have the right tools with you, image upscaling should be easy enough to do. Tools like imgupscaler should be in your arsenal if you're ever going to work with images that need resizing and upscaling. You don't need to worry about your privacy because the website will never leak it out. All the images uploaded will be deleted after 12 hours. And your info will never be shared with others. So feel free to use such tools if they have a good privacy protection system.
Conclusion
Nowadays, no one will deny that a photo is one of the best ways to tell a good story or promote a business. Learning some photo editing skills as a photographer will save you a lot of costs. If you don't have much budget and time to grasp professional editing knowledge, you can also have other ways to get good results. You can use some AI photo editors to do some simple work. Compared to a human, machines can do the job faster and better sometimes.
There are editing tools that will make you look like a pro. They make your images perfect and help create more chances to win your clients' trust. Whether you want to enhance photo quality or upscale image for better displaying, you can always find the proper tools to do the work. In this article, we cover a special topic and give answers to 10 frequently asked questions about image upscaling. Hope you can get some inspiration from this post.