Best Anime Upscaler: Enhance Anime Wallpaper with Ease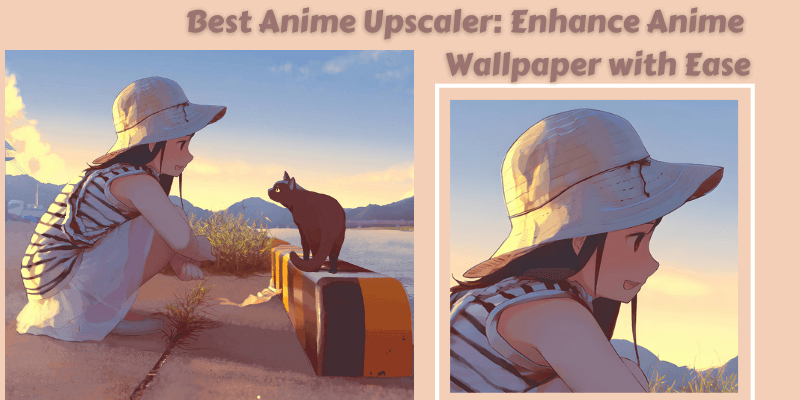 What is Anime Wallpaper?
Anime actually refers to the combination of animation design and comic design. In our daily life, we are exposed to anime through movies, series, games, and comic books.
Anime is also evolving, from the beginning of hand-drawn production to the current computer production. We are most exposed to Japanese anime and American anime. They are traditional representations. Japanese anime pierces the fantasy nerves of viewers with surreal imagery through detailed character, stylistic, and scene design. American anime often uses high-tech filming techniques and "American heroism" themes.
When we see some anime pictures that we really like, we will have the idea to set them as wallpaper. When we adjust the saved anime picture to fit the wallpaper size, we get our favorite anime wallpaper!
Why Upscale Anime Wallpaper?
When we set the image to wallpaper, we will find that the picture is blurred. The reason is that the animation is drawn at a certain resolution and then compressed to a lower resolution for ease of use. Blurred images have decreased visual effects. We can enhance anime wallpaper through the image editor and image enlargement tool to resize the image to fit our wallpaper size.
Benefits of Using AI to Enhance Anime Wallpaper
With the development of AI technology, nowadays, we can use AI to upscale anime images with a simple operation.
We usually use photo editors to enlarge pictures and they cannot fill the vacant pixels after enlargement. They just upscale the picture without improving the resolution. The AI image enlargement tool can restore and fill in blank pixels, so it can enhance the image better.
A photo editor integrates multi-functions. We need to download it and learn the tutorial. AI image upscale tool is much easier to operate online and improves our efficiency.
Best Anime Upscaler: Enhance Anime Wallpaper with Ease
Imgupscaler is one of the most powerful online image amplifiers that can upgrade images to 2K or 4K without degrading their resolution. It uses the latest artificial intelligence technology to upgrade images by improving their quality, supports batch uploads, and is easy to use with just a few clicks to get an amazing image.
How to Upscale Anime Wallpaper by Imgupscaler
Step 1: Prepare the photos you want to upscale.
Step 2: Choose "Drag or drop" to Upload the image.
Step 3: Wait and leave it to Imgupscaler to process.
Step 4: Click "Download" to check and save the resulting image.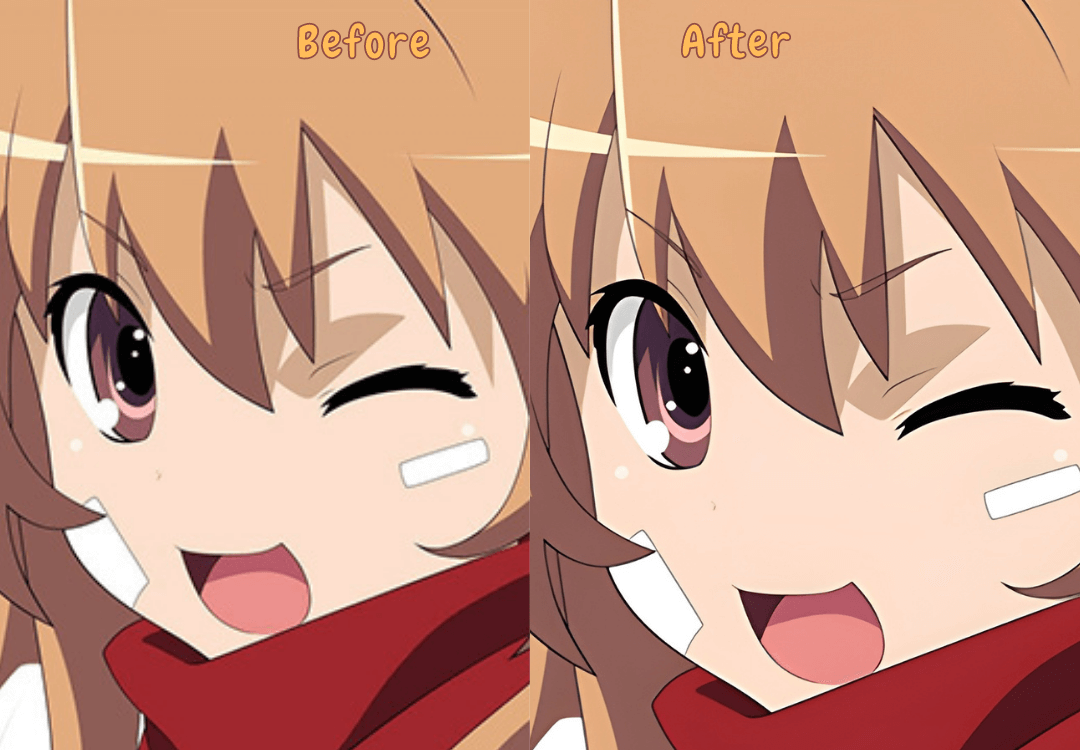 Pros and Cons:
Pros
Pictures can be enlarged up to 2k or 4k.
Five free credits for each week for free accounts.
AI-optimized details to eliminate distortion.
Automatic cleaning of the uploaded Image records.
It supports batch image processing.
Cons
No editing tools and parameter adjustment.
Waifu2x
Waifu2x is a simple AI anime image enhancer combined with noise reduction. It utilizes reliable image processing and artificial intelligence technical support. The noise reduction and enlargement levels are adjustable before starting the process, which is very user-friendly.
How to Upscale Anime Wallpaper by Waifu2x
Step 1: Choose "Select Image" to upload the image.
Step 2: Adjust the option about Scale and Noise Reduction.
Step 3: Click "Convert Now" and wait to finish.
Step 4: Choose the "preview" button to check.
Step 5: Choose "Download" button for saving the image.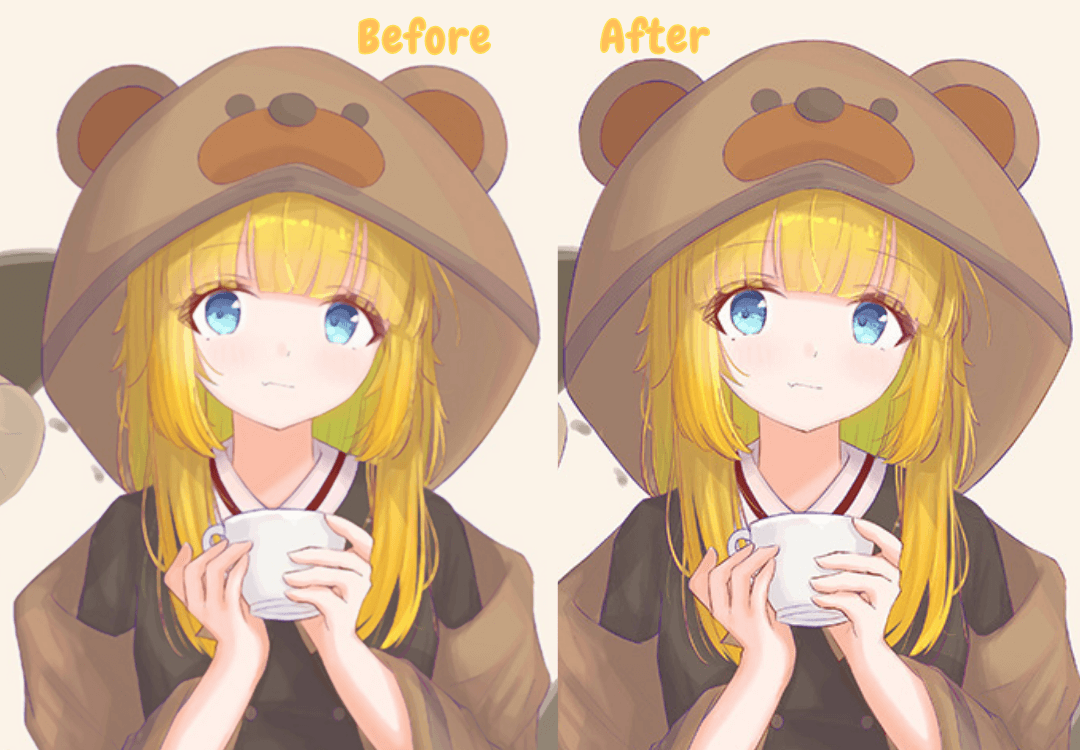 Pros and Cons:
Pros
Magnification up to 10k.
Waifu2x is a free online tool.
Magnification and noise reduction level support adjustment.
The contour enhancement effect of the above figure is obvious.
Cons
Human verification is required for each operation.
Sometimes the page crashes when the image is enlarged to 10K.
Imageresizer
Imageresizer is a free online tool for resizing images and optimizing image quality. Uploading an image to jump to the edit page also allows you to perform basic cropping and rotating operations, with image quality and output format support options.
How to Upscale Anime Wallpaper by imageresizer
Step 1: Drag and drop the image to the blue area to upload.
Step 2: Wait for the jump to the operation page, where you can adjust the parameters.
Step 3: Click on "Resize image" after adjusting the parameters.
Step 4: Wait for the process to complete and click "download" to save the image.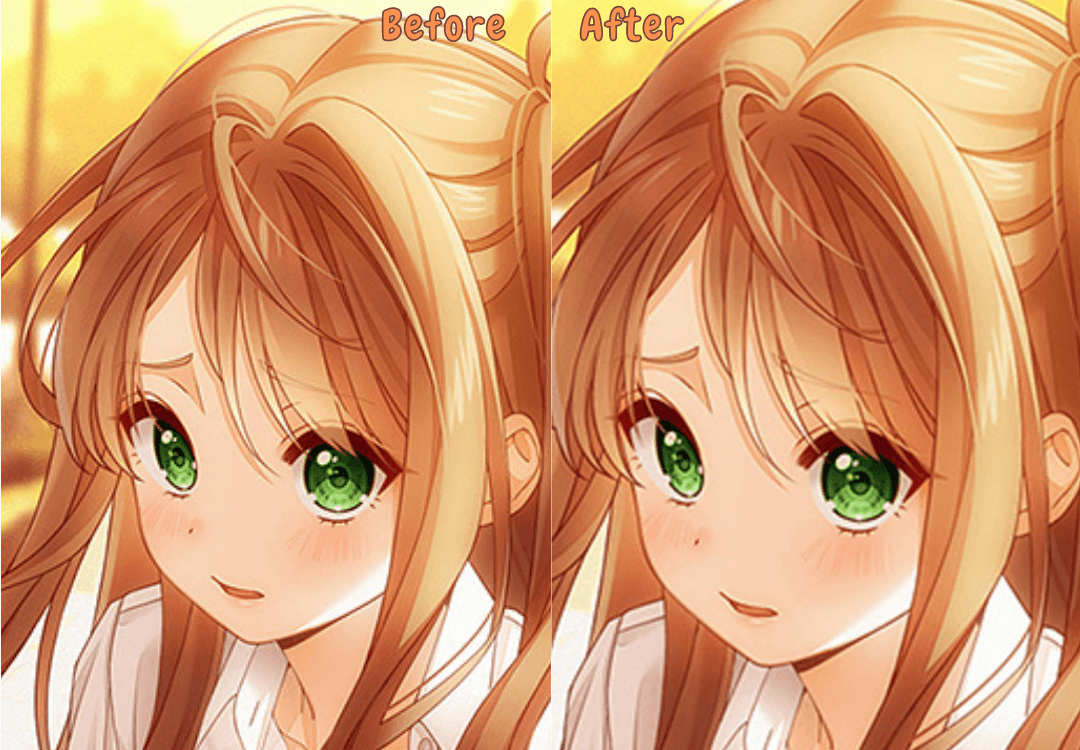 Pros and Cons:
Pros
Simple operation and fast processing.
Free to use without a watermark.
You can adjust the parameters from resize, crop and filp & rotate.
Your images are encrypted, uploaded, and automatically deleted within 6 hours.
Cons
Insignificant resolution improvement for images.
AI Anime 16K is an image amplifier with customizable adjustment parameters launched by AI Technical Support. It can help you to improve the quality of your images up to 16K, especially for anime images and wallpapers, to get excellent results. It also supports simply editing the image and then enlarging it to provide more features to meet the user's needs.
How to Upscale Anime Wallpaper by AI Anime 16K
Step 1: Select and upload the photos you need to manipulate.
Step 2: Click "Edit" to enter the operation panel to adjust the parameters.
Step 3: Click on the yellow button "Done" in the upper right corner after finishing the adjustment.
Step 4: Select "Start" to process the image.
Step 5: Click on "download" to view and save the image after processing is complete.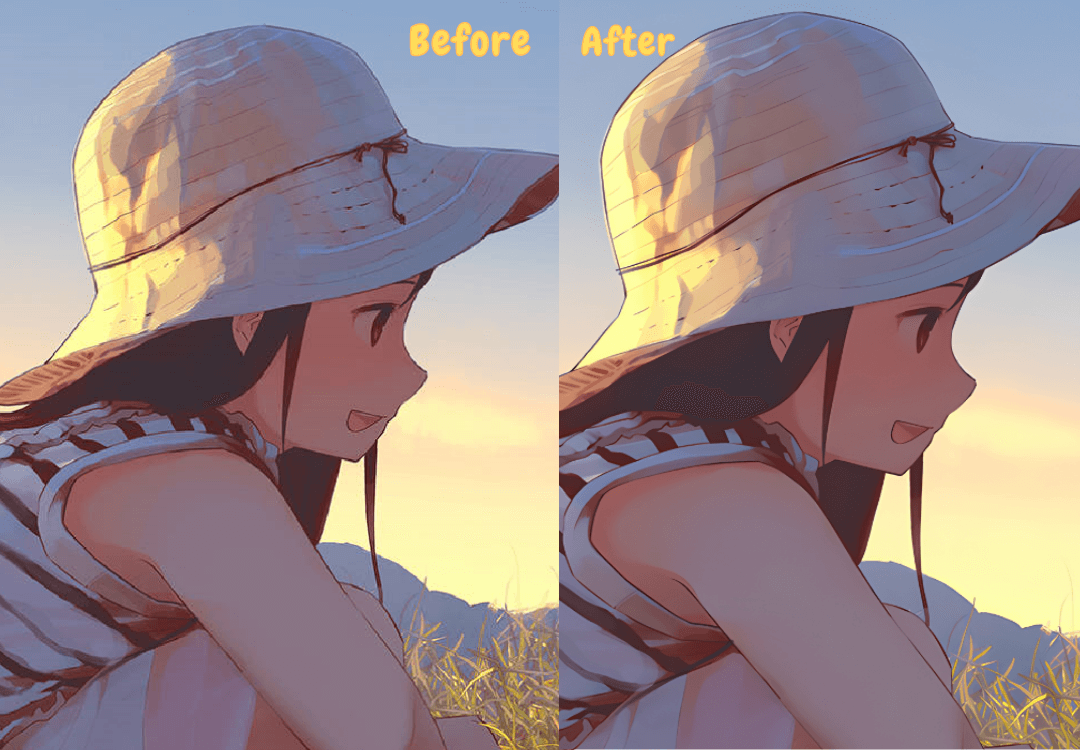 Pros and Cons:
Pros
It supports enlarging images up to 16K.
Users can make custom adjustments.
Better results with the latest AI technology.
Support batch uploads.
Cons
Because of the Edit function, you need to click" start "to batch processing.
Imgonline
Imgoline is an online image upscaling tool that supports processing multiple image formats. It is easy to operate and fast to process. It allows you to customize the resizing parameters and choose the format of the output image and the interpolation algorithm you want to use. It offers a standard resizing in pixels.
How to Upscale Anime Wallpaper by Imgonline
Step 1: Upload the image.
Step 2: Adjust the parameters to your needs.
Step 3: Select "ok" to operate on the image.
Step 4: Click on "opening processed image" to check and view.
Step 5: Select "Download processed image" to save the image.
Step 5: Select "Download processed image" to save the image.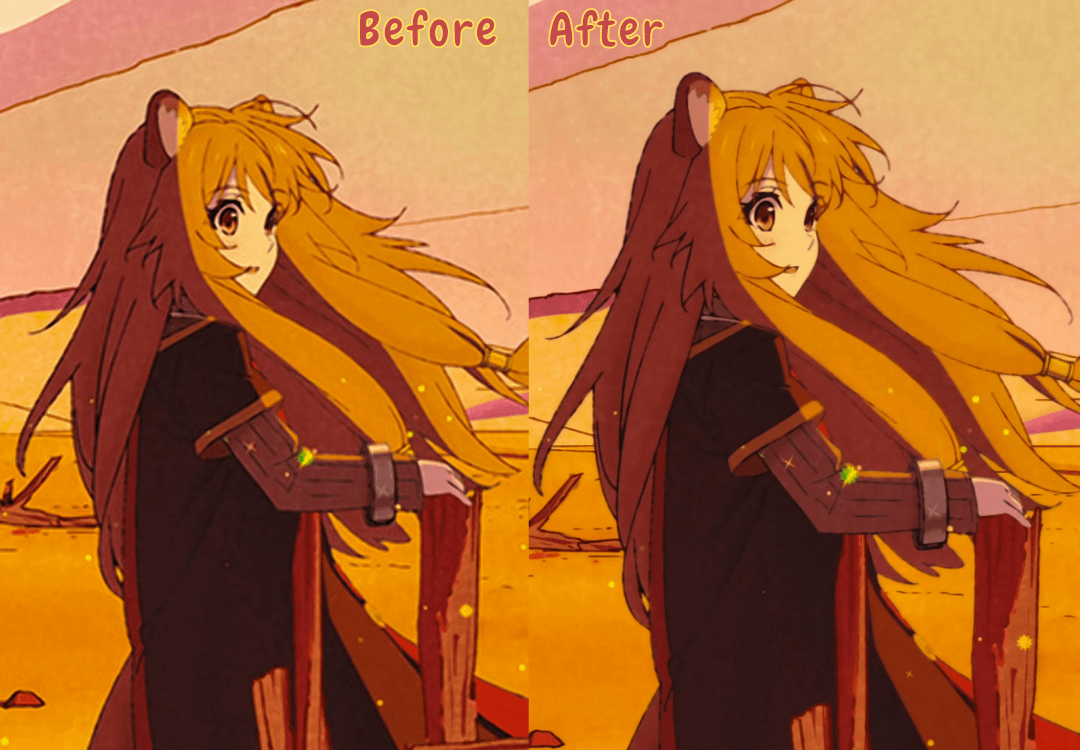 Pros and Cons:
Pros
Support multiple image formats processing.
Easy and fast operation.
Personalized parameter adjustment.
Magnifications 2x, 4x, 8x, and 16x can be chosen.
Cons
Page layout design affects the visual effect.
ClipDrop
Clipdrop can enhance your images with noise reduction and enhancement techniques. It automatically removes JPEG compression artefacts and sharpens blurred edges to give you a better result image. It upgrades images in seconds with just a few simple clicks.
How to Upscale Anime Wallpaper by ClidDrop
Step 1: Upload your image by clicking or dragging.
Step 2: Select the magnification you want to magnify.
Step 3: Drag the mouse to control the middle line to see the before and after comparison effect.
Step 4: Click "Download" to save the resulting image.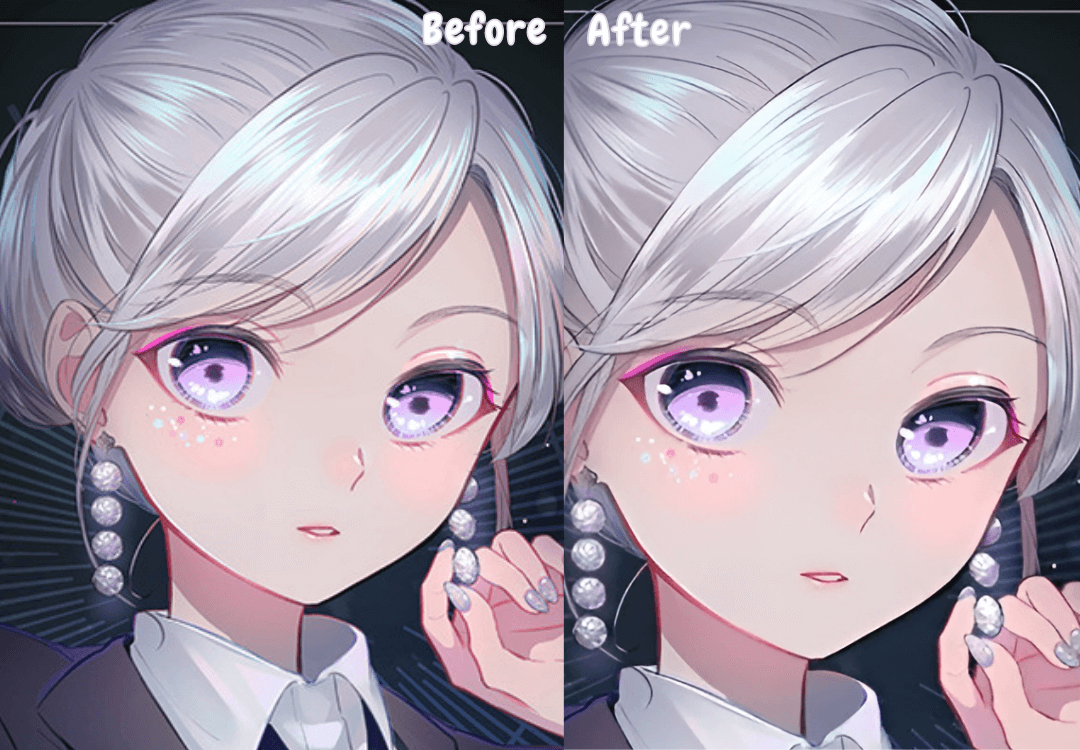 Pros and Cons:
Pros
Easy to operate and newbie friendly.
Effect comparison method to improve user experience.
Fast and efficient processing.
Support free use without registration.
Cons
Free users support 2x. If you want to upgrade the image to 4x, you need to pay.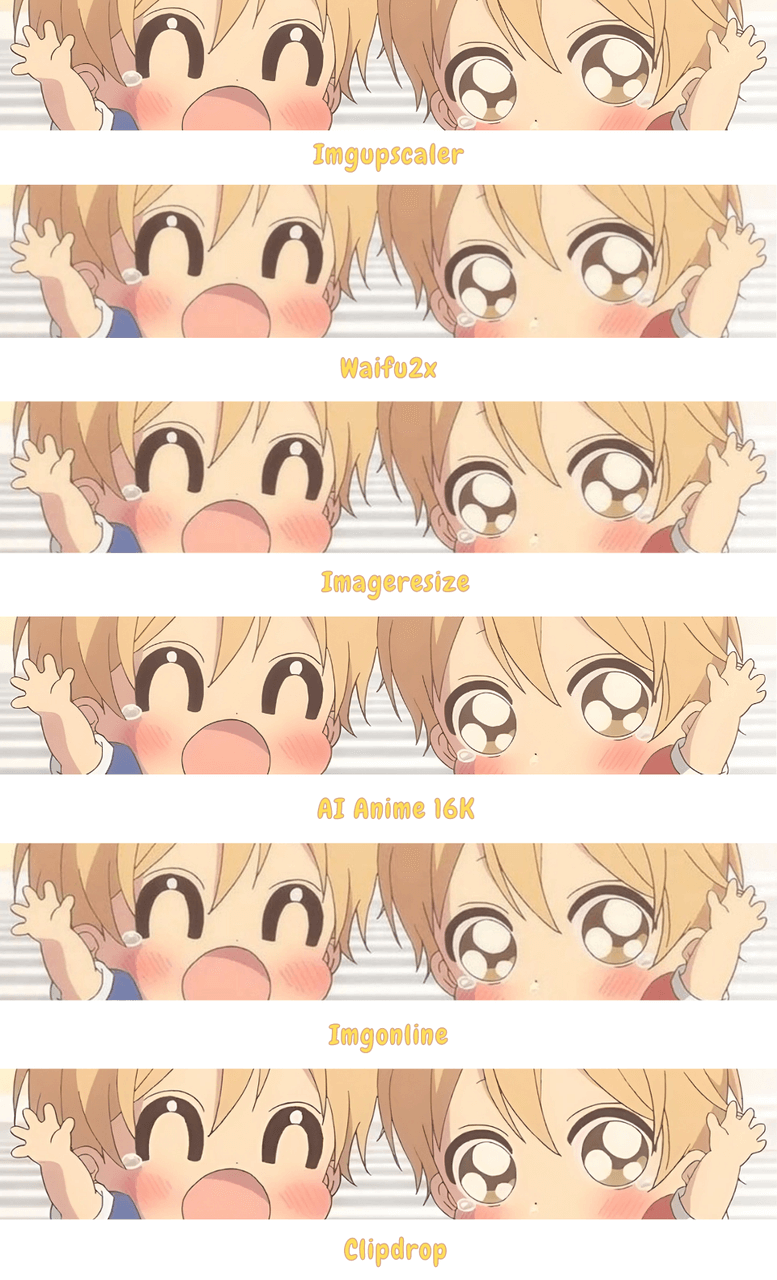 Which AI Upscaler Works Best with Anime Wallpaper?
According to the comparison, we found that Imgupscaler, AI anime 16k, and clipdrop have more outstanding results. Let's compare these three tools again.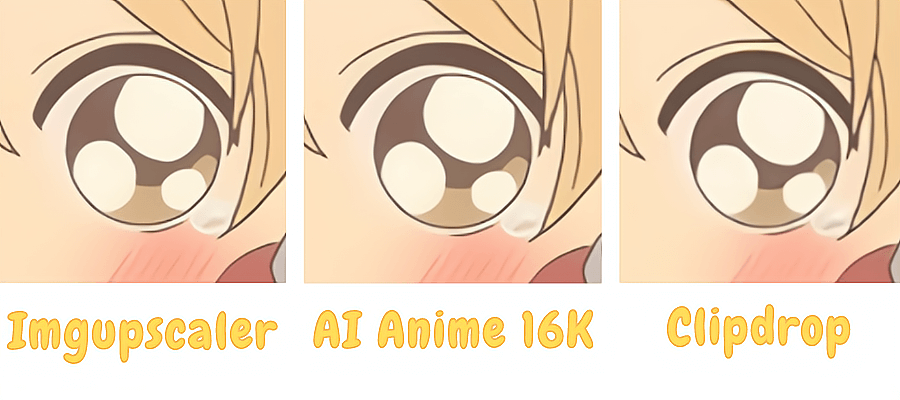 We can clearly see that the details are best restored by AI Anime 16K, followed by Imgupscaler, and finally, clipdrop. AI Anime 16K is 4K magnification, imgupscaler is 4k magnification, clipdrop is 2x magnification, and 4k magnification needs to be paid.
If you need to enlarge the effect as clearly as possible, you can choose imgupscaler and AI anime 16k. Besides, Imgupscaler also supports batch processing, AI Anime 16K for image editing, and Clipdrop for free zooming up to 2k.
Wallpaper Upscaling FAQs:
Can I Upscale Anime Images for free?
Yes. All six products mentioned in the article can be free to use.
2. Is it possible to batch upscale my anime wallpapers?
Yes. Imgupscaler makes batch processing possible. After batch uploading your images, click "start all" to start batch processing, and then click "remove all" if you want to remove them after viewing and saving.
Conclusion
Anime is fascinating, with beautiful scenes, vivid characters, and a gripping plot design. Therefore, we will always be attracted to anime.
The rapid development of anime makes more people like anime. We always save our favorite anime pictures. AI image upscale tools can help us when we want to change them to HD wallpaper.
Above, we have discussed six tools for enlarging images according to their uses and pros and cons. You can try the one you like the most. Let's try it out!