Best Graphic Design Programs to Create More Appealing Web Images and Boost Your Business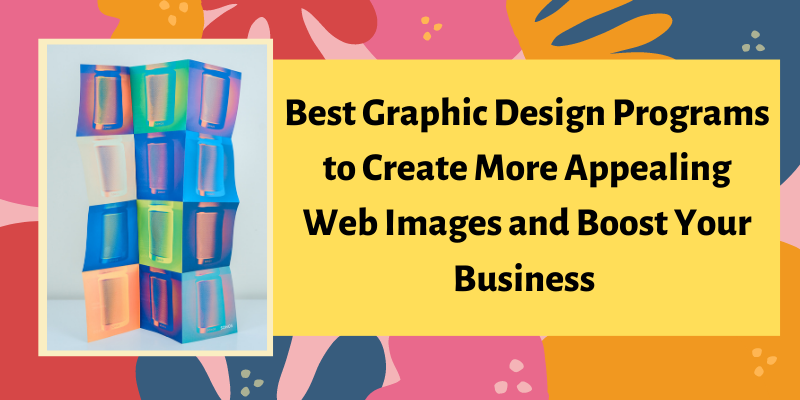 When we are browsing a web page, we can see the web design, and there are images to show. Which image is more attractive to you? Whether an image is attractive or not depends on two aspects. On the one hand, it is the picture content, and on the other hand, it is the quality of the picture. The image content is related to the website domain, and the quality of the images determines the user's sense of experience. The visual experience and whether the user's attention is attracted determines whether they will jump out of the site or continue browsing next.
Why are High-quality Web Images important to your business?
Attract the user's attention
People first see the images on the page when browsing the web. With the rise of various video software, people's attention spans only about 15-20 seconds. High-quality images quickly catch the user's eye and leave a profound first impression. It's also one of the crucial tips to boost your business.
Increase conversion rates
High-quality images grab the user's attention and keep them on your site longer, which is essential to increase conversion rates. High-quality photos give your product a chance for users to learn about it and a way to pull in users and your business. High-quality images can also help users better understand the details of your product and is a way to increase our competitiveness.
High-quality images enhance your website's credibility and quality, helping users make an informed and objective judgment about your website. High-quality images on your website that present outstanding visual effects can also enhance the experience of users who visit and browse your website.
Helps improve your website's SEO
When it comes to SEO, the effects of high-quality images are apparent. Search engine intelligence machines read through image tags, captions, alt text, and other textual contexts of the picture. These elements are essential and should be addressed. The alt text (image description text) and keywords of the image are directly related to the idea, and the image's file name should be a description of the picture. High-quality images are easy for search engine intelligent robots to read images and play an essential role in improving website SEO.
What are Graphic Design Programs
Graphic design Programs is a generic term for computer design software. Graphic design software must be run and used on a computer to perform graphic screen and graphic text design work. Adobe Photoshop, Adobe Illustrator, CorelDRAW, and Adobe InDesign are the most common computer software tools used in graphic design.
Best Graphic Design Programs to Create More Appealing Web Images
1. Adobe Illustrator
Adobe Illustrator is a graphic design software for creating illustrations, drawings, and artwork. Illustrator increases the efficiency of creating images by providing a wide range of drawing tools. It is favored by artists from all fields of illustration and graphic designers to combine Illustrator with creativity and create innovative and high-quality artwork. And you can always learn something new in Illustrator. It is now part of Adobe Creative Cloud. You can install and run it on Windows or MacOS computers.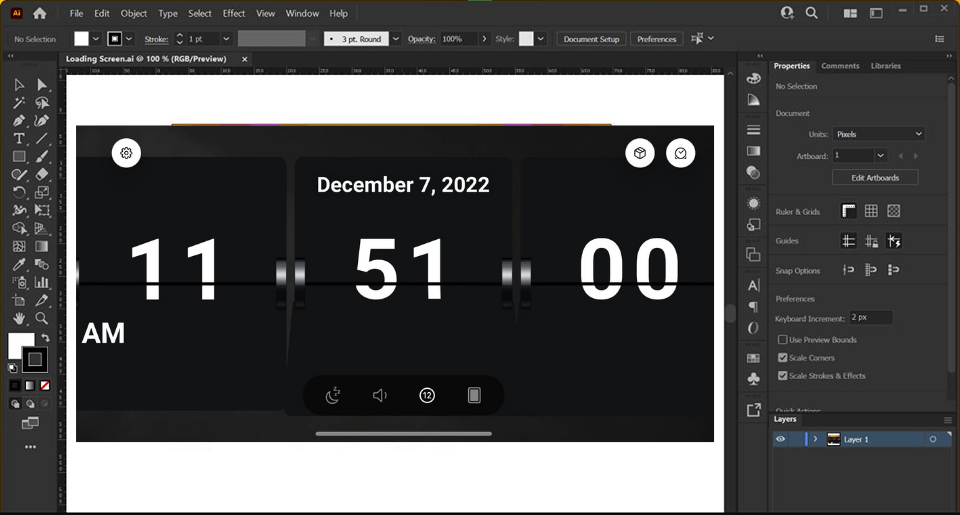 Key Features:
Adobe Sensei AI: Analyze images and automatically extract matching colors from photos with AI.
Massive library of Adobe stock templates, including millions of images and icons, and fonts in many styles.
Creative Cloud Service. Help users manage projects anytime and anywhere, more conveniently and efficiently.
Merge data, Synchronize statistics and infographic data.
Pros and Cons:
Pros
Multiple page outputs.
Variety of vector design tools.
Efficient workspace and user interface.
It is compatible with all computer systems.
Adobe Illustrator Integrates with every other editing tool in the Adobe family.
Cons
Sharing is not convenient.
Editing options are limited.
Very similar to Photoshop.
Subscription plans are expensive.
You need to be patient and take the time to learn to master the tool.
Not user-friendly for those who are not familiar with editing images and do not know about image editing and users.
Available Platforms:
Windows, Mac, iPad, Android
2. Canva
Canva is a creative online video editing and graphic design tool and tool. It has many functions and features but is easy to use, even for beginners. Anyone can create WONDERFUL designs for personal and professional use with Canva. It is specially made for non-graphic designers and people who are on a budget and want a professional design.
Canva includes many templates for users to choose from and create. Of course, you can also let your creativity run wild to showcase your designs, from infographics and resumes to social media posts. Canva is easy to sign up for using an email, Google account, or Facebook login.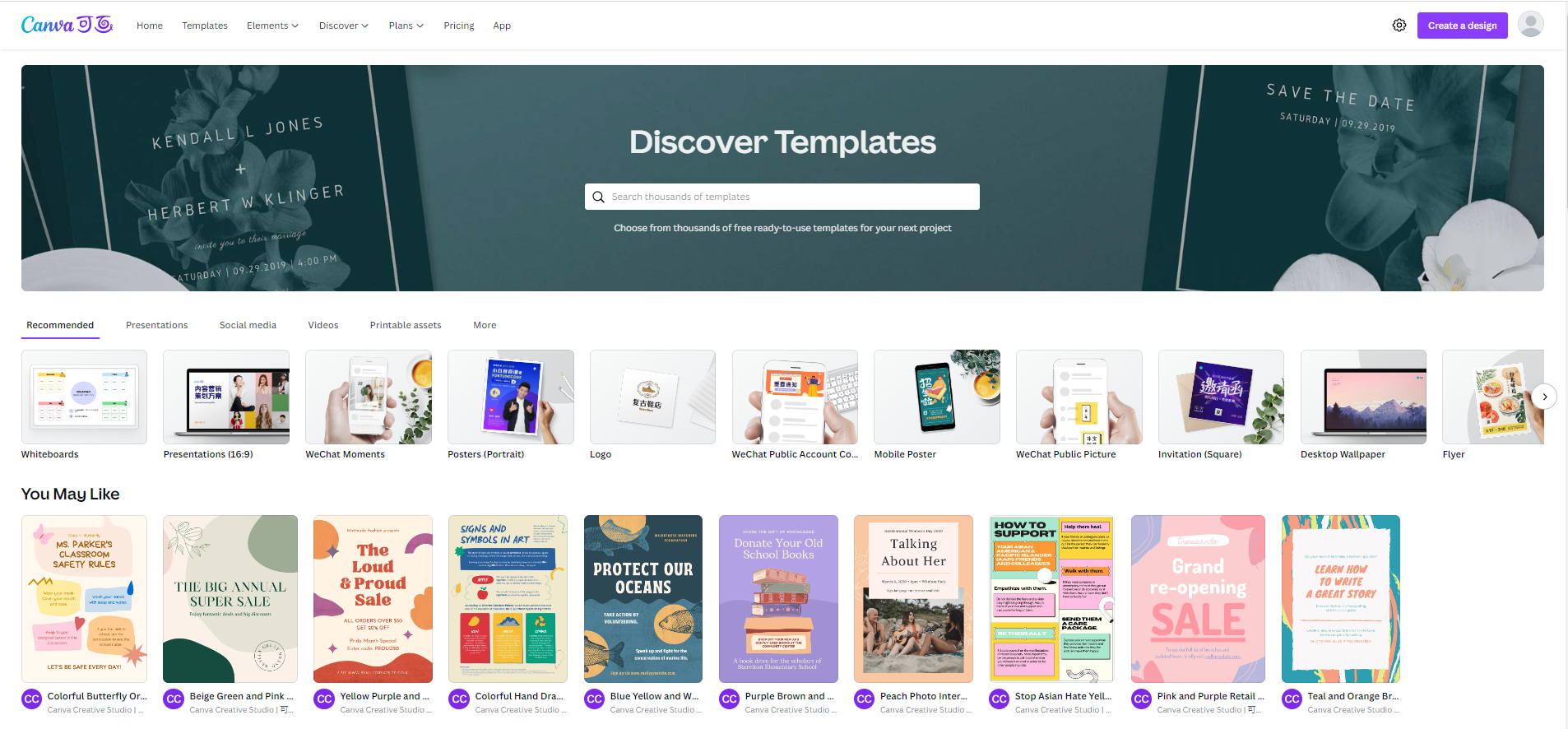 Key Features:
Custom templates: Start with a layout designed before you begin, which you can apply extensively to presentations, videos, ads, infographics, or charts.
Massive amount of elements: royalty-free photos, videos and graphics, plenty of material to add to your design templates.
A drag-and-drop design that allows you to move elements around the template more easily and freely.
Easy collaboration. You can easily and quickly share projects through team folders and real-time collaboration.
Pros and Cons:
Pros
Easy to learn and simple to use.
Free version available for users.
Users can choose to use the free version.
Quickly create templates more efficiently.
Rich resources and tutorials are designed.
Cons
Limited design options, users who want to unlock more features or upgrade their accounts need to pay.
Available Platforms:
Windows, Mac, Web browser, Android, iOS
Imgupscaler is a professional AI image upscale tool that improves resolution and upgrades enlarged images without degrading image quality. It uses the latest AI technology to intelligently predict and restore the enlarged image's pixel vacancy by analyzing it. So it is excellent for preserving the details of photos. The latest upgrade allows you to choose the magnification, 2x or 4x. How to create high-quality images? Imgupscaler will give you the answer.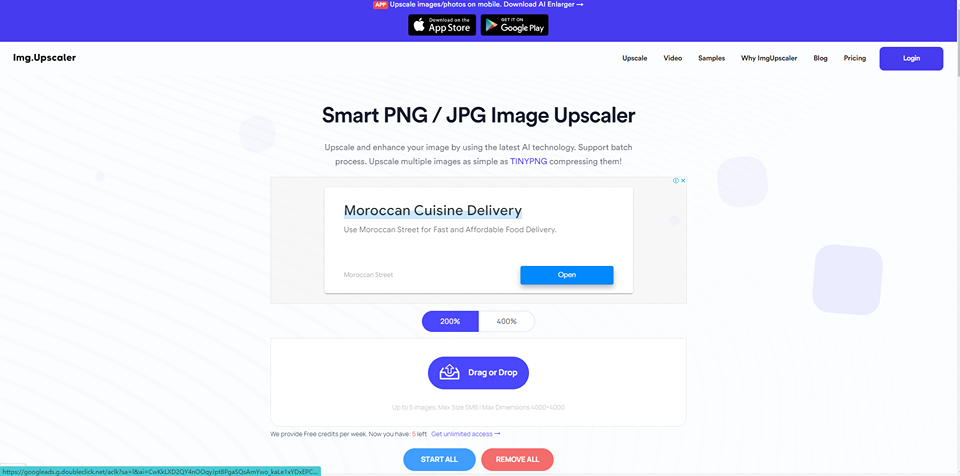 Key Features:
The latest AI technology support. It can enrich image details with AI technology to improve image resolution without degrading image quality.
Support batch processing. Just one click after uploading, it is fast and convenient to improve work efficiency.
Privacy and security. Imgupscaler will erase all photos within 24 hours to protect your privacy.
Free use. Users can use it five times a week for free without creating an account.
Pros and Cons:
Pros
Two magnifications, 2x and 4x.
Simple and straightforward interface for intuitive user operation.
Offers free plans with five processing opportunities per week.
Easy to operate without the requirement of too many editing techniques.
Support batch processing, simplify operation steps, efficiency and time-saving.
Cons
No other editing tools and parameter adjustments were designed.
Available Platforms:
Windows and Mac
4. PicMonkey
PicMonkey is an online photo editor designed for non-designers. It makes it easy for users to add text, effects, and graphics to their photos. Some of PicMonkey's features help users with collages, retouching, creating graphics for printing, etc. PicMonkey is a good choice for users who need to do lightweight photo processing and graphic design. It supports saving photos in various formats, including JPEG, GIF, and PNG.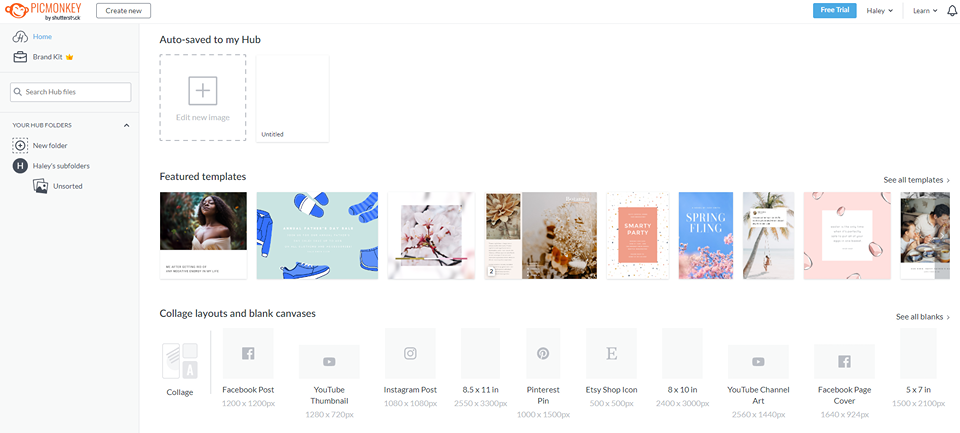 Key Features:
Simple interface.
Thousands of design templates and vector graphics.
Millions of stock photos to choose from to use in the design process.
Web-side browser operation for editing, but also on cell phones with mobile apps.
Pros and Cons:
Pros
Simple interface.
Support batch upload.
Automatic saving to cloud storage service.
Multiple puzzle layouts and customization support.
More than 20 free collage layouts for you to use.
Cons
Free for users, but if you want to download the edited images, you need to purchase a subscription plan.
Available Platforms:
Windows, Mac OS or Linux, iOS, and Android
5. Figma
Figma is a cloud-based design tool, and Figma is better suited for effective team collaboration. It has powerful vector tools, instant sharing of work in progress, and makes co-designing easier. Figma offers a lot of features for free graphic design software. Figma takes a new step in design tools by adding animation capabilities. Users animate elements. Users can create more dynamic user experiences without leaving the browser window.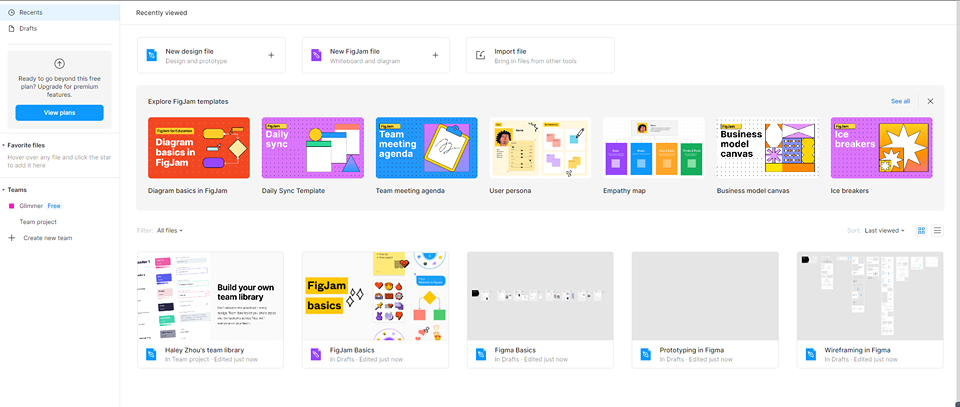 Key Features:
Variety of materials to use your creativity, diverse shapes, fonts, colors, etc.
It is very helpful in designing user interfaces for cell phones and websites.
Support for teamwork and co-design communication.
Pros and Cons:
Pros
Premium features in the subscription plan.
Private plugin design in organization-level plans.
There are many free tools to choose from for your use.
Cons
No shared fonts at the lower price.
No additional security features before the organization level.
Available Platforms:
Macs, Windows
6. Gravit Designer
Gravit Designer is a versatile software for designing high-quality vector drawings. It has many features and is very user-friendly for beginners and designers alike. It is also an excellent alternative to Adobe Illustrator.
Gravit Designer is an HTML-based application that users can use on many devices. Users can create various designs or projects, including applications, illustrations, icons, presentations, screen, and print designs. Helps graphic designers create sketches, wireframes, or mockups.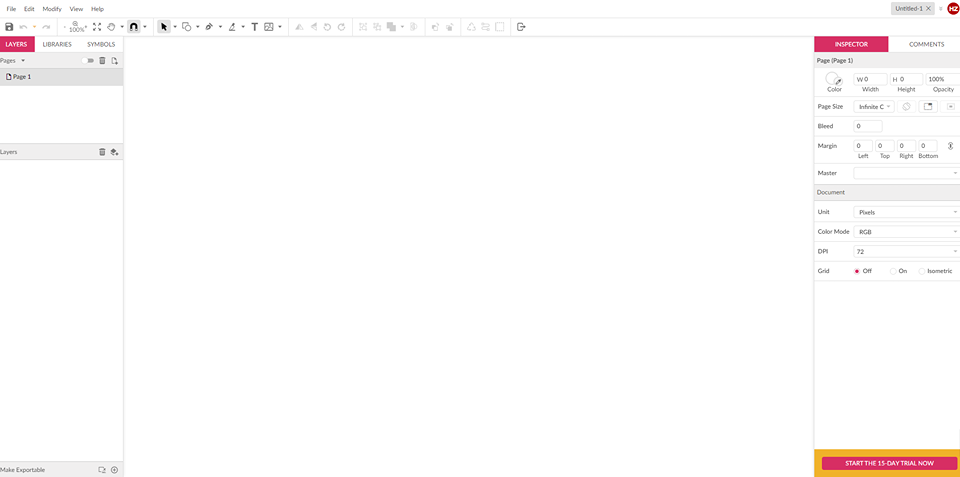 Key Features:
Dark theme and 14 languages support.
Comprehensive documentation and helpful tooltips.
Multiple free usage options.
Pros and Cons:
Pros
Intuitive interface.
There is a free version.
Automatic saving.
The zoom rate is up to 25,600.
Social media support.
Cons
Limited choice of vector graphics.
No support for real-time collaboration.
Subscription plans are a bit pricey.
Available Platforms:
Windows, MacOS
Imglarger is a photo magnifier and an all-in-one AI photo editing toolkit. Combines the functions of noise reduction, sharpening, enhancement, scaling, erasing, restoring, background removal, coloring, and cartoonizer in one. Better optimize the flow of your image processing and improve your photos. If you want to process your pictures efficiently and stop spending lots of time, Imglarger can save you from it! Imglarger is specially designed for novice users and requires no excessive knowledge of photo editing skills, just simple operations. You can enjoy the process of image processing and let AI help you with it.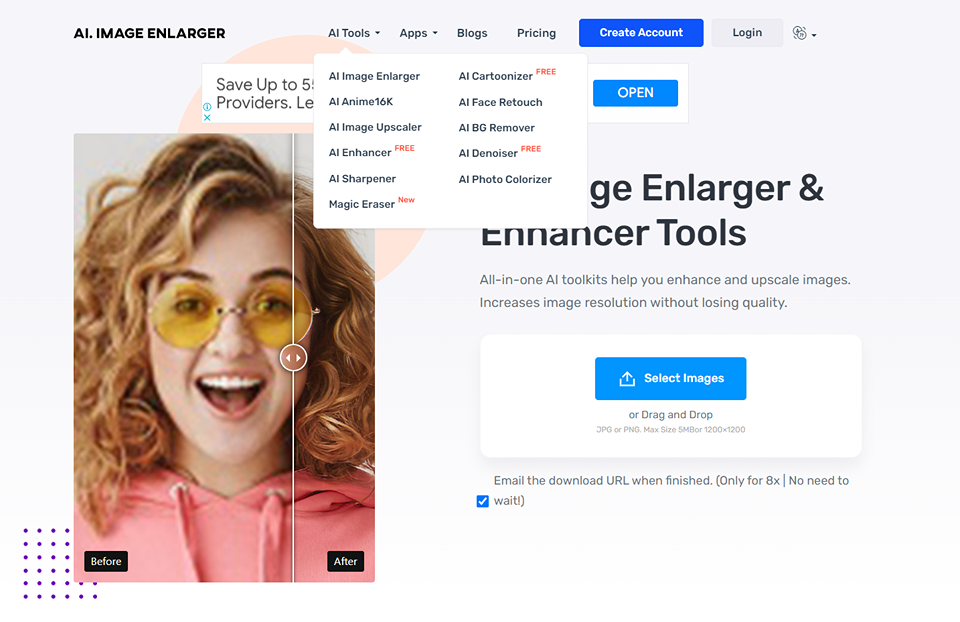 Key Features:
Multiple tools to meet the needs of users.
Easy to operate and time saving and efficient.
Support free use user friendly.
Simple interface to improve the user experience.
Pros and Cons:
Pros
Enlarge images by selecting 200%, 400%, 800% without quality loss.
Enhance image quality, color, and contrast with a few simple clicks.
Anyone can use it without any skill or experience.
The premium plan is user-friendly.
Cons
Limited access to free accounts.
Available Platforms:
Macs, Windows
8. PhotoScape
PhotoScape is one of the prevalent free image editing software. It includes an essential painting toolbox. If you only need to complete simple tasks such as resizing or cropping images, it can help you get the job done quickly and concisely. It also includes batch processing features to simplify your work and increase efficiencies, such as light editing and renaming files.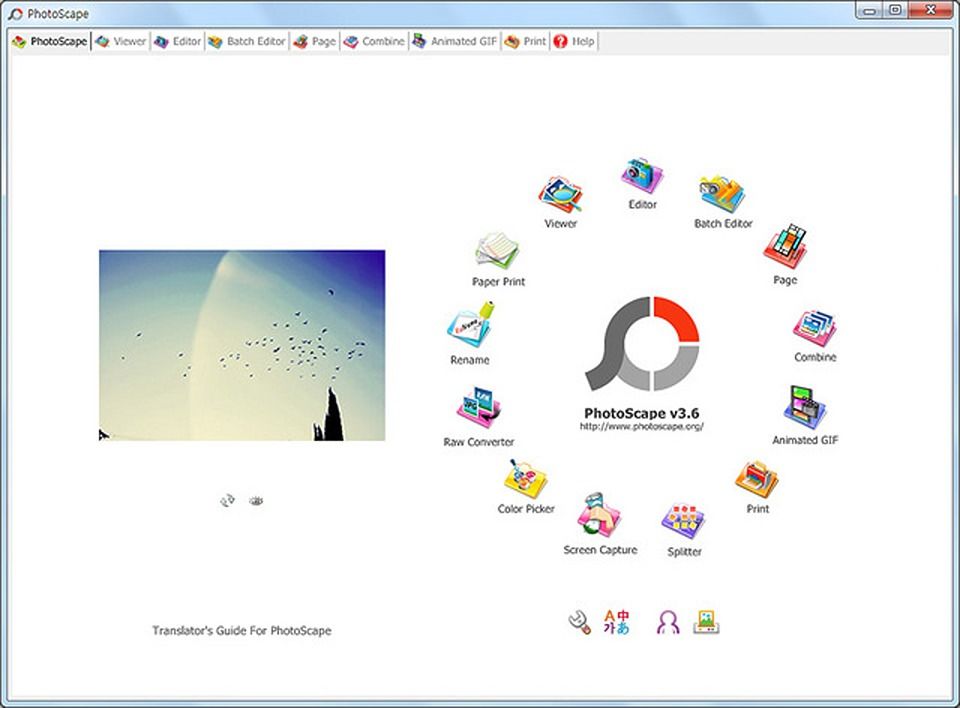 Key Features:
There are 30 language support options.
Advanced features such as GIF animation, Internet facial search, and batch renaming.
Paper printing function. Supports printing drawings, serif paper, and sheet music with no problem at all.
Merge data, Synchronize statistics and infographic data.
Pros and Cons:
Pros
Easy to use, creating simple designs is fun.
Batch processing support.
It provides many exciting features and functions to edit my pictures and make collages, posters, and banners from them.
Cons
Low update frequency of the free version.
PhotoScape version has an old and outdated user community.
Available Platforms:
Windows、Mac
Can high-quality Images Boost My Business?
Yes, there is no doubt about it. While ensuring the speed of loading the page, we need to ensure that the quality of the images is high enough. These are very important for Boost My Business, as we mentioned in section 2 of the article. When customers enter the page quickly, they will see high-quality and clear images to improve their visual experience, and they will go through and browse the site. Users will then stay on our page as long as possible to understand our website. High-quality images will help users see the details and leave a good impression on our website.
Conclusion
This article introduces the role and importance of attractive web images for business. We also learned about eight popular graphic design software that we can also use in graphic design to promote our business. See which one is more suitable for better results.