Boost Your Creativity with Object Remover: Erase Unwanted Objects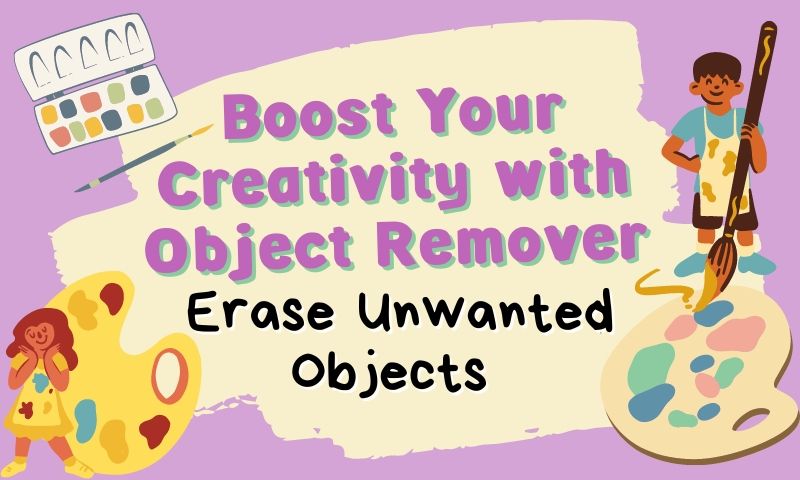 Pictures are ubiquitous in our lives, and it is one of the mediums of expression. Photographs convey information and evoke feelings and moments of our memories. Sometimes there are unwanted objects or distracting elements that affect the visual effect of the picture.
Do you want to remove distracting elements from your photos? Make your photography photos and photo editing unique. How to remove unwanted objects from photos? Object remover in photo editing can help. Show your creativity by erasing elements from your pictures, giving them different visual effects and photographic styles. Let's explore the object remover tool!
The Creative Power of Object Removal
Creativity plays an essential role in art. It allows the creator to express himself and evoke empathy from the audience. The Picture Object Removal tool is both a tool to unleash creativity and a catalyst. By removing objects from a picture, it improves the composition and different visual effects. It brings the image closer to the creator's desired result.
Uncluttered compositions: Simplify complex elements in your images. Removing unwanted objects allows you to optimize and create cleaner compositions highlighting critical elements in your photos.
Storytelling: Shape and enhance the story of your photo by removing distracting or aesthetically disruptive elements.
Emotional impact: Remove unwanted objects from a photo to increase its emotional impact, evoke empathy in the viewer, and mobilize the user's emotions.
Visual experimentation: Removing objects from the image can also give your photos different graphical effects and styles. For example, surreal or abstract compositions add glamor to your photography.
Inspiration: Get inspired to change a picture by trying to erase elements from it. And push the limits of the elements in your photo.
How to Select the Right Object Removal Tool
Accuracy: Remove objects accurately and minimize artifacts or distortion with a background eraser tool.
Ease of Use: Object removal tool with a user-friendly interface and easy control of editing effects. Both beginners and professionals can use it for most of the people.
Compatibility:  Object removal tools can be used with operating systems and photo editing software depending on individual needs.
Flexible Adjustment: Erase strength and brush size support adjustment, which can be adjusted according to the different objects to be erased.
Erase Object Type: Select the range of objects to be erased by the tool according to your needs. Some support erasing text, logos, characters, and other elements.
Object Remover Fantastic AI Image Object Eraser
Object Remover is a powerful AI picture element-erasing tool. It will automatically erase the picture after covering the object to be erased. It utilizes AI algorithms to repair the background of the erased object without any trace, even though the erased object is barely visible to the naked eye, and the effect is natural without damaging the original photo.
How does it work? Using the latest AI algorithms to analyze the picture and predict and repair the picture background of the erased object. The processed image leaves almost no trace of erasure, and the background is naturally articulated. A natural visual effect is presented.
Object Remover supports erasing characters, text, logos, decals, and skin blemish removal. Of course, you can use Object Remover to erase any other picture element. See if it still works.

Advantages of object remover:
It is entirely free of charge in terms of price.
Fast processing, accurate and excellent results
The short learning curve, easy-to-operate, newbie-friendly
Supports a wide range of erased objects to meet the needs of most users
Saves time, improves efficiency, and simplifies the process of erasing image objects
Flexible options, erase intensity, and brush support adjustment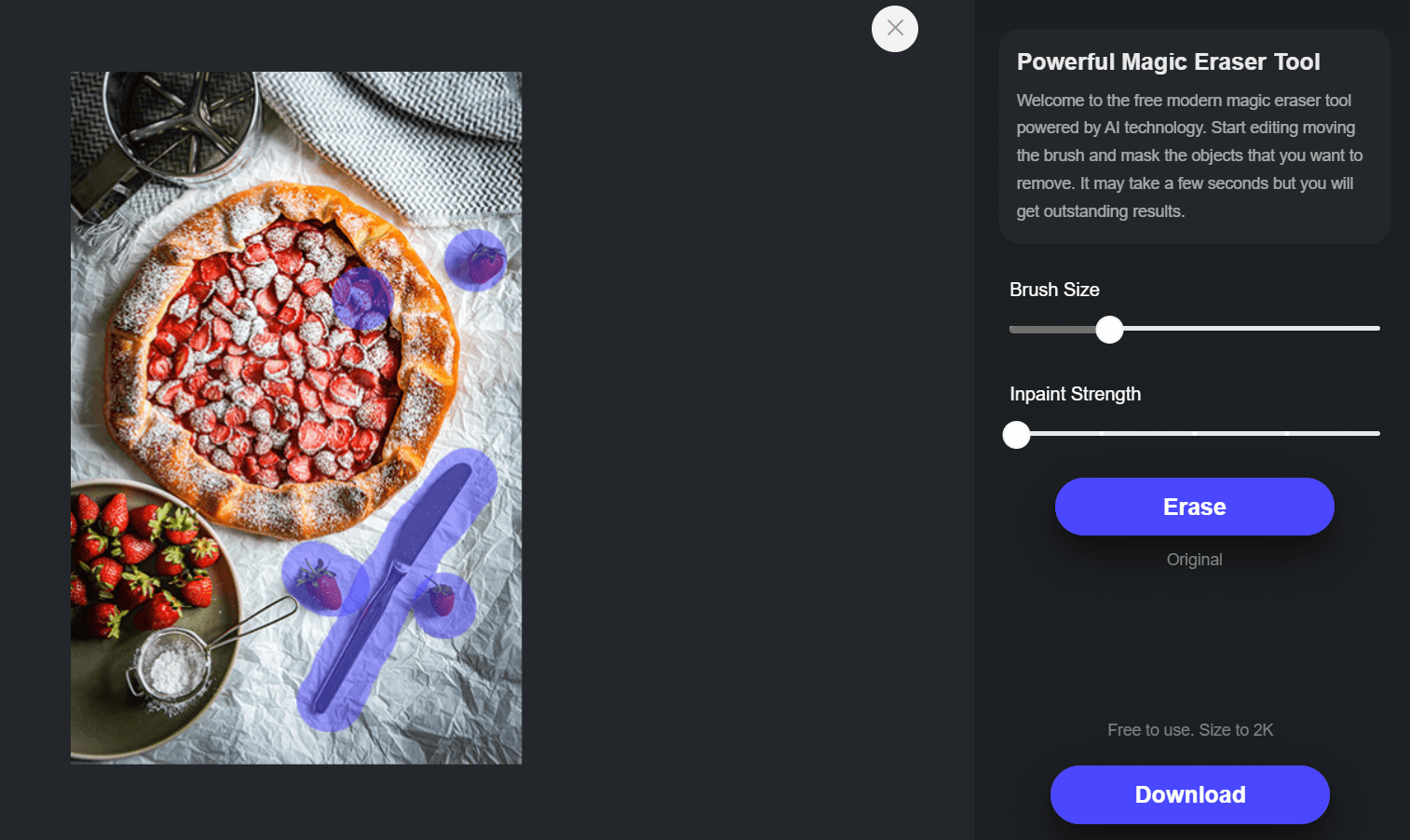 How to use it
Step 1 Upload a photo: Click the purple "Upload an Image" button to support jpg, png, and jpeg formats.
Step 2 Adjust Brush Size: After uploading, you will be automatically redirected to the operation interface, mouse over the erased object to check the brush size. Drag the slider on the right side of the control panel to adjust the "Brush Size" until the brush can cover the object to be erased.
Step 3 Select the object to be erased: Drag the mouse to paint over the object to be erased, and cover the edges precisely. The "Erase" button automatically removes the selected object with one click.
Step  4 Save the picture: After processing, click the "Download" button to view and save. If the result is not good enough, you can adjust the "Inpainting Strength" again to adjust the erasing strength.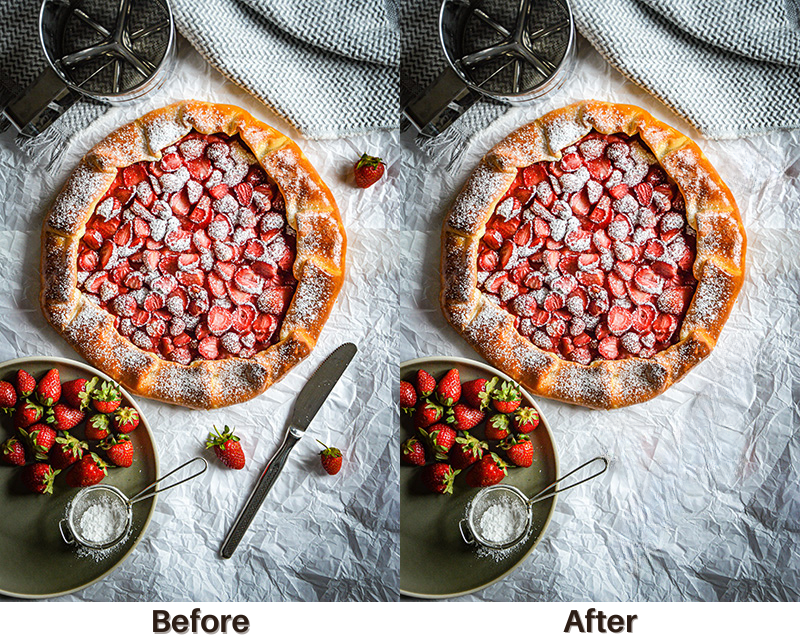 Tips to Boost Your Creativity with Object Removal
Adjust the brush accurately according to the object to be erased and cover the object to be erased precisely. Particular attention should be paid to the details and edges of the erased objects to achieve a natural effect without marks.
After removing objects, zoom in and check whether the erased part of the image and the rest have a natural connection and do not damage the photo. If a problem occurs, adjust and perform the erasure again.
Don't be afraid to try different editing options and refine the image, for example, by adjusting the intensity of the erasure until you get the desired result. Help you to optimize imperfect photos with one-click intelligent optimization.
Where to Unleash Creativity with Object Remover?
Object Remover for Social Media Content
Social media is gradually becoming integrated into our lives, with personal creative content being posted on social media to attract traffic. This requires us to create content and images that grab users' attention.
Whether it's a poster or an invitation, as long as it's an image, we can adjust the elements on the image by using the image object remover tool to present amazing visual effects. Whether it's a party poster, product promotion, or corporate image, we can make our creative content stand out. Creative content can also enhance our image on social media.

Object Remover for Professional Photography
Using an object removal tool can help photographers. Photographers provide their clients with clean and beautiful images that highlight the key themes and messages.
You can use object removal tools to minimize your images in fashion, architecture, product, or portrait photography. Image removal tools provide users convenience while efficiently improving the quality of photos and presenting more professional results.

Final Thought
There are many ways to get inspired to be creative in all kinds of pictures-related art. Practice is one crucial way, and using an object remover is one way to change your images. Get inspired by continuous experimentation, beautify your images, and use appropriate white space to give them a different look.
When we needed to work on unwanted elements in a picture, we learned how to choose the right object remover and in which situations to use it. There are also some methods and tips for using object removers. Have you jumped on the bandwagon yet? Let's see the magic of object remover now!